By: Steven M. Roge, CMFC
Technology Investing
Over a decade ago, investing in technology stocks remained a status symbol among Wall Street investors. However, in the recent years the prolonged underperformance of these stocks has created a menace for the portfolio investors and has urged them to look down upon the technology sector. These technology stocks have attracted a lot of selling attention over the past decade despite the fundamentals and secular growth in the sector. This report highlights a positive industry view for investment in technology stocks primarily driven by strong secular growth, increased online accessibility via mobile devices and tablets, and strengthening of the key trends including social, local and video. While the broader macro trend remains mixed, the internet economy is quite healthy, and the consumer internet, despite being a veteran, is still in its infancy.
Strong Revenue Growth
Many of the internet companies deserve a premium in valuations to the broader market and other tech companies (like hardware, semiconductors, storage etc) considering their outsized revenue growth and market opportunities combined with the scarcity value of growth overall. It must be noted that only 9% of the companies in the S&P 500 (SPY) are growing revenue above 15% and they trade at a premium of around 60% to the rest of the index. Given the scarcity of revenue growth, certain internet companies deserve high premium to the overall market and other tech names. In 2012, Amazon (AMZN) and Google (GOOG) are expected to grow their revenue by around 30% and 23% respectively.
Also, many companies have achieved EPS growth by managing costs. It must be noted that around 44% of companies in the S&P 500 are growing its EPS above 15%. However, given that EPS growth is more manageable and easier to find, these companies trade at only a 20% premium to the rest of the index, compared with an approximate 60% premium for high revenue growth companies.
War of the platforms
Internet ecosystem is settling around a few select companies that will provide the base or foundation of application development over the next several years. Amazon, Apple (AAPL), Google are emerging as primary platforms on top of which large amounts of online/mobile communications, advertising, and commerce are likely to be conducted over the next decade. Google's Eric Schmidt recently discussed this trend at The Wall Street Journal's D9 conference, suggesting that Google, Facebook, Apple, and Amazon are deploying platform strategies most effectively. The key attributes to define and evaluate the competitiveness of a platform are: Global reach, Large Ecosystem, Device agnostic, Network effect (each additional user enhancing the effect of the platform) and Toll booths (install and the platform makes money while you are sleeping).
Mobile world
Mobile is expected to be the single largest accelerator of Internet growth for the next several years driven by dramatic increases in users and usage/user, which in turn is being driven by improvements in device functionality, connection speeds, and application development. A telling statistic about mobile's reach: by the end of 2011, the number of mobile users in Sub-Saharan Africa and Southeast Asia is expected to exceed the on-grid (i.e. electric grid) population in those regions according to Cisco (CSCO). This widespread availability of mobile data should enable new business models and increases in productivity that are likely to drive usage growth that rivals fixed-line Internet growth over a decade ago.
According to Cisco data, global mobile data traffic grew 2.6x in 2010, nearly tripling for a third year in a row. Moreover, Mobile data traffic (237 PB/month) is already over 3x the size of global fixed-line Internet traffic (75 PB/month) in 2000. Despite a much larger base, mobile data growth rates are expected to be similar to the early days of fixed-line data growth going forward. Cisco expects a 92% CAGR for global mobile data traffic from 2010 through 2015 with smartphones (116% CAGR) and Tablets (190% CAGR) outpacing overall mobile data growth. For comparison, Cisco projects fixed-line Internet data increasing 42% during the same period, largely driven by increasing video consumption.
Smartphones penetration still at nascent stages
Despite tremendous growth rates to date, global smartphone penetration will approach 30% in 2011 going to 45% in 2015 according to IDC. IDC suggests penetration in North America and Western Europe is similar, approaching 40%, and above 55% in Japan. However, emerging markets Latin America, Central Europe/Middle East/Africa, and Asia ex-Japan are still in the mid-teens.
Apple and Android to rule the world
Apple and Google's Android are the only mobile operating systems that grew year-over-year in 1Q worldwide according to Gartner. Android-powered handsets represented 36% of global smartphones in 1Q11, while Apple's iOS had 17% share. Symbian's global share continues to decline and iOS may soon overtake it. In the U.S.com Score's May data suggests Android has 38% smartphone share and Apple has 27%.
The social networks
Social has emerged as a major medium of the web as consumers are now more expressive and willing to share personal information online, and the effects of social have been accelerated by mobile Internet usage and increasing virality online. Given the extensive reach of social media and the strong traction it has had, and it will continue to be a disruptive factor online over the next several years. Social networking sites now represent 16% of all U.S. Internet usage time and have a 96% reach among U.S. web users, as reported by comScore. Facebook is the clear market share leader among social networking sites, with around 700 million members, more than half whom visit the site on a daily basis.
Growth in display advertising
Online advertising continues to see strong growth, driven largely by shifting consumer consumption of online media. The cost of content creation and distribution is decreasing, which brings in new content to consumers and increases inventory. Moreover, consumers have more ways than ever to consume content through mobile devices and tablets, allowing them to demand ubiquity and greater access to all forms of content. The time spent online will continue to increase, and we can project Internet advertising in the US to grow 17.5% in 2011 to $30.6B on the heels of 14.9% growth in 2010.
For much of the last decade we saw search advertising growth significantly outpace display ad growth as advertisers were drawn to the measurable, performance-based model. Additionally, display advertising was facing some unique challenges including a large influx of inventory related to social networks and user generated content and less developed targeting and measurement capabilities. However, 2010 saw increasing allocation of branded budgets online and this is expected to continue going forward.
Investing in a digital economy
While broader macro data appears mixed, the growth in the digital economy remains very strong roughly 16 years into the commercial Internet. This strength is driven by new technologies and innovation, online ubiquity through mobile phones and tablets, and the convergence of a number of key trends such as mobile, social, and local. Accordingly, the larger Internet companies need to continuously invest to capture current trends and future growth opportunities. Otherwise they are at risk of being marginalized by an increasing range of competitors. Google and Amazon are investing most aggressively for long-term opportunities: Google in display (YouTube, AdExchange, branded), mobile (Android, AdMob, mobile search), local (Google Offers), and core search innovations; and Amazon in new categories (digital video), fulfillment centers, geographic expansion (China and Italy), and AWS. Importantly, we believe some management teams (i.e. Google) likely believe they pulled back too hard during the downturn and lost valuable time related to new products and innovation. This could shape management thinking during a future slowdown.
Valuation
The internet companies are significantly undervalued considering the proliferation of some of its products/applications and the penetration of eCommerce. With eCommerce representing around 9% of US retail and continuing to grow, the internet companies are likely to gain. Apart from eCommerce, features like display advertising and mobile apps are also forming examples of search of companies that extends beyond search.
Although companies like Microsoft, Amazon and Google continue to grow in double digits and have strong product pipeline to support the growth, these companies have been continuously underperforming and receiving sell-side attention. The following graphs illustrate the YoY growth of some of these companies and the corresponding P/E's – (click charts to expand):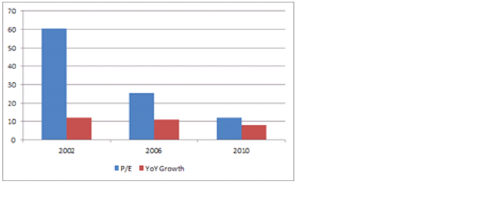 Figure: Microsoft (MSFT) Growth Vs P/E (Steady growth with declining P/E's)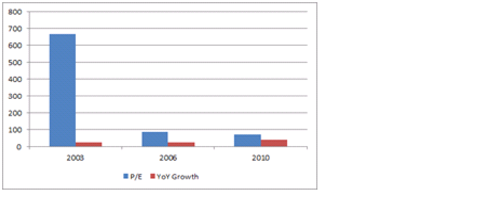 Figure: Amazon Growth Vs P/E (expanding growth with declining P/E's)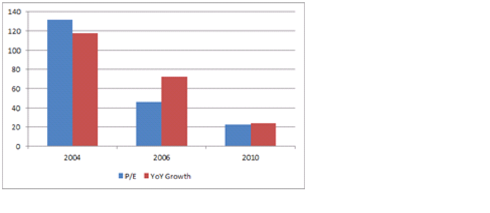 Figure: Google Growth Vs P/E (moderately declining growth with rapidly declining P/E's)
As can be seen in the above figures the growth rates of some of the large-cap technology companies do not warrant the kind of decline in P/E's that they are valued at. This may lead to a revolution within the sector and a rapid P/E expansion is likely and the sector which has been a steady underperformer for years now may start enjoying higher multiples.
As specific examples, Amazon can rise up to a price of $251/ per share based on around 23 times its 2013 FCF of $10.8 per share. This is a reasonable estimate considering a growth of 26% 2010-2013 FCF CAGR. Amazon has historically traded at 25-30x its FCF. The company shall also benefit from its positive working capital cycle which is inherent within the business model and will further continue due to the strong top line growth.
On a P/E basis Amazon trades at 38.4x its 2012 EPS estimates (Bloomberg) of $5.49, which is extremely reasonable considering that its EPS is growing at 40% YoY. It definitely deserves a premium to its multiple given its large market opportunity and ability to grow revenue in excess of 25% over next several years.
Another example to consider would be Google, which can be expected to hit a price target of around $660. This is based on 13.6x of its 2013 estimated EPS of around $48.55 (Bloomberg). The approximate 14x multiple implies a 0.8 PEG ratio to the 2010-2013 estimated EPS CAGR of around 18%. Google currently trades at around 12.9x its 2012E EPS and is one of the cheapest stocks in the internet universe, despite having a defensible platform-based business model. The large cap tech peers trade at an average of 1x PEG a premium to Google's current PEG of 0.7x.
If you prefer, investing in a broad basket of technology stocks looks worthwhile. The iShares Dow Jones U.S. Technology Sector Index Fund (IYW) is a low cost way to get broad exposure to the whole technology sector. The top holdings in this ETF include Apple, International Business machine (IBM), Microsoft, Google, Intel (INTC), and Oracle (ORCL).
Source: BloombergAlso, it has been noted that some well known value-based fund managers who have shied away from investing in technology stocks in the past have recently changed their tune by increasing their portfolio exposure in the sector. These investors include Bill Nygren of the Oakmark Fund, Matt McLennan of the First Eagle Funds , and Steve Romick of the FPA Crescent Fund.
Disclosure: I am long AAPL.
Disclaimer: This discussion is for informational purposes and should not be taken as a recommendation to purchase any individual securities. Information within this discussion and investment determination of the author may change due to changes in investment strategy when warranted by changing market conditions, or if a security's underlying fundamentals or valuation measures change. There is no guarantee that, should market conditions repeat, this security will perform in the same way in the future. There is no guarantee that the opinions expressed herein will be valid beyond the date of this presentation. There can be no assurance that the author will continue to hold this position in companies described herein, and may change any of his position at any time. We use or best efforts to obtain good data in our models, however it can't be guaranteed that our inputs and data are correct. This is not a recommendation for readers to purchase shares in the above security without consulting your financial professional to discuss your own risk tolerance and objectives.