By: Steven M. Roge, CMFC
Business description and background
Novo Nordisk (
NVO
) manufactures and markets pharmaceutical products and services. The company operates in two segments, diabetes care and biopharmaceuticals. Created in 1989 through a merger of two Danish companies dating back to the 1920s, it has become one of the world's leading companies in diabetes care. The diabetes care segment covers insulins, oral antidiabetic drugs and other protein-related products and projects comprising glucagon and protein-related delivery systems, as well as GLP-1 analogue. The biopharmaceuticals segment provides products in the areas of haemophilia, growth hormone therapy, hormone replacement therapy and inflammation therapy. Its products are marketed and distributed through subsidiaries, distributors and independent agents in 180 countries. Novo Nordisk has international production facilities in seven countries, with affiliates or offices in 76 countries. Novo Nordisk employs approximately 31,000 people globally (as of Q42010), and markets its products in 179 countries. Novo Nordisk is a full member of the European Federation of Pharmaceutical Industries and Associations. Novo Nordisk has been ranked No. 25 among 100 Best companies to work for 2010 by Fortune.
Thesis
Novo is the leading player in the diabetes care and remains one of the few large-cap pharma stocks in the European pharmaceuticals market that has the potential to grow its topline in double-digits over the next five years (average growth rate is around 7% of EU pharma sector). The 2011 guidance given by the management at around 10% seems quite conservative and can be surpassed by some of the triggers surrounding Novo and can hit a growth rate of around 12-15%.
According to WHO, the number of cases of diabetes is expected to grow from around 176 million in 2000 to around 366 million in 2030. With approximately 10% of diabetes patients reported, expecting to have Type I diabetes (insulin dependent) the insulin market is expected to grow by around 7.5% in value from 2010 to 2020. Novo's wide and innovative insulin portfolio offers it a growth potential of around 12% CAGR between 2010-2020. This growth can be attributed to a variety of factors:
Increasing risk of diabetes in parts of Asia
Increasing treatment rates and early diagnosis in parts of BRIC nations, especially in China
The proportion of patients treated by insulin is rapidly growing due to the ease of availability of insulin doses
A recent report by NEJM (New England Journal of Medicine) suggests that the diabetic prevalence in China is likely to double to around 92 million by 2020. Therefore, China is likely to be a major driver for Novo's business over the next 10-15 years. With sales expected to grow between 15-17% from 2010-2030 this is likely to boost the overall company's growth rate.
After gaining acceptance under GLP-1 status in U.S. in 2010, Victoza will drive the growth of Novo in 2011. Victoza gives Novo an opportunity to establish itself as a first mover in the absence of any other Bydureon competition. Victoza may contribute to a 105% Y-o-Y growth for 2011 and can drive further upside when witnessed with positive obesity trials driving greater uptake in obese diabetes.
Outside of Victoza, Novo's growth beyond 2013 will be mainly driven by its new insulin products degludec and degludec Plus and the Victoza/degludec combination product. While these products have a potential to cannibalize the sales of some of its existing products like Levemir, Novolog and Novomix, they are likely to drive growth much faster due to the conversion toward long acting basal insulin.
Degludec has the potential to show a much longer duration of action compared to Lantus and for lower hypoglycemia. Degludec can take up to 8-10% of the total long acting insulin market and can grow this proportion up to 25-30% by 2030. The development of Degludec can have offer Novo the following opportunities:
Start patients fresh with long-acting insulin on a new type of insulin and this could last longer with a longer patent protection. This could further translate into higher market share for Novo.
Market leader, Sanofi-Aventis (

SNY

) long acting insulin (Lantus) is known to be a better performer than Levemir (Novo's marketed long-acting insulin). This is further complicated by the fact that Levemir requires two doses a day. This perception would improve with the introduction of Degludec.
•Lantus market share may decline from 53% to 30% by 2030 as a result of Degludec.
DegludecPlus and GLP-1 combination mixtures are likely to offer much better alternatives to some of the existing mix products that Novo offers. DegludecPlus has the first mover advantage as it is the only mix insulin that combines basal insulin (degludec) with short acting insulin (Novolog). This is likely to result in a mixture that may have a longer action and expected to have a natural profile which could lead to a reduction in hypoglycemia.
Pre-mix products are likely to have a great growth potential in the Asian markets due to lack of competition from long-acting analogues. DeguldecPlus can capture up to 4-5% of the total long acting insulin market within two years after its launch (2013) and this share can grow up to 10-15% by 2030. Degludec, degludecPlus and Degludec/Victoza combination offers potential for much better pricing which will have a direct impact on the company's operating margins.
These new products can improve the company's operating margins (although significant investments will be made in R&D before and after launching these products) by around 3-7% over the next 10 years.
This would result in an increase of around 15-20% in EPS by 2020.
A major risk to the growing insulin market can come from the government. Government can intervene in the pricing within the insulin market to reduce the prices. The impact of such a price cut can have a direct negative effect on Novo's sales. A slower than expected growth rate of Victoza could have a negative impact on the forecasts.
Management and Stewardship
The company has a two-tier board structure that consists of the board of directors and executive management. Novo makes an attempt to keep both the bodies separate and ensures that no person is a member of both. The board has 11 members, seven elected by shareholders and four by employees, and the executive management has around five members.
One of the key strengths of Novo Nordisk lies in its top management and the board of directors who contribute extensively to the company leveraging from its years of pharmaceutical experience. Sten Scheibye is the chairman of the company since 2006 and has vast experience in the pharmaceutical sector. Sten has been in the industry for around 30 years. The vice chairman of the company, Goran A Ando, has industry experience of around 30 years and has been in various senior management roles in some of the leading pharmaceutical companies like Pfizer, Glaxo group, Albea Pharmaceuticals, etc. The other nine members of the board have extensive experience in the pharma space and come from leading pharmaceutical firms such as AstraZenca, LifeCycle Pharma, Pfizer and Glaxo Pharma, to name a few.
Executive remuneration is proposed by a chairmanship and approved by other board members. Remuneration for executive members consists of a fixed base salary, a cash-based incentive, share-based incentive, a pension contribution and other benefits. The split between the fixed and variable component is linked to the performance of the management and contribution toward the company's growth. Most of the board of directors receive only a fixed salary and travel allowance and do not have a large variable component. The aggregate maximum amount that may be granted as incentive is currently equal to 12 months fixed base salary plus pension contribution.
On an annual basis, executive remuneration is assessed against other leading Danish companies that have international operations, and this is further supplemented by assessment against European and Scandinavian pharmaceutical companies. The 2010 assessment has revealed that elements in the remuneration package are below benchmark levels. The company has decided to make some revisions to the remuneration packages in its 2011 Annual General meeting and this may lead to an increment in the salary expenses and it may affect margins for this forthcoming year.
Valuation
The revenue projections of Novo Nordisk over the next five years are as follows:
Click to enlarge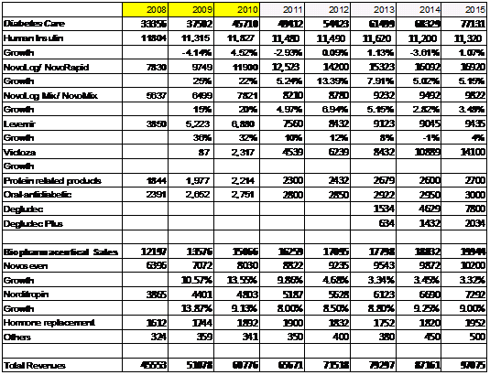 Assumptions:
1.Human insulin growth likely to be flat to declining due to rapid improvements in modern insulin.
2.Novolog/Novorapid, Most rapid acting insulin used by both Type 1 and Type 2 diabetes. Expect high growth in Asia(10k).
3.Novomix/Novolog Mix, Most preferred biphasic insulin at later stage of Type 2 but Degludec plus presents a threat to this in long term.
4.Levemir, Growing fast in U.S. and achieved Blockbuster status in 2010 but faces threat from Degludec.
5.Victoza approved in U.S. in 2010, GLP-1 status offers benefits, expecting roll out in Asia soon.
6.Protein related products, Expected to remain flat but not declining in coming years along with Oral antidiabetic products.
7.Degludec, a strong substitute to Lantus and with very positive results.
8.Degludec plus, has superior results over NovoMix and a strong substitute.
A DCF analysis was performed based on above revenue estimates and projected financial statements,
The DCF valuation estimates the stock price of DKK 775.34.
Click to enlarge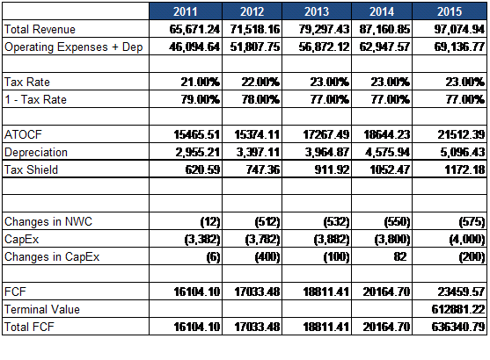 Fair Value (DKK millions) – 4,81,785.14
Long Term Debt — 297
Shares outstanding – 621
Stock Price(fair)(in DKK) – 775.34
The Return on Invested Capital (
ROIC
), Weighted Average Cost of Capital(
WACC
) ROIC and WACC are as follows:

Disclosure: I have no positions in any stocks mentioned, but may initiate a long position in NVO over the next 72 hours.
Additional disclosure: This discussion is for informational purposes and should not be taken as a recommendation to purchase any individual securities. Information within this discussion and investment determination of the author may change due to changes in investment strategy when warranted by changing market conditions, or if a security's underlying fundamentals or valuation measures change. There is no guarantee that, should market conditions repeat, this security will perform in the same way in the future. There is no guarantee that the opinions expressed herein will be valid beyond the date of this presentation. There can be no assurance that the author will continue to hold this position in companies described herein, and may change any of his position at any time. We use or best efforts to obtain good data in our models, however it can't be guaranteed that our inputs and data are correct. This is not a recommendation for readers to purchase shares in the above security without consulting your financial professional to discuss your own risk tolerance and objectives.
http://seekingalpha.com/article/287146-novo-nordisk-profiting-from-the-company-s-pharmaceutical-expertise