By: Steven M. Roge, CMFC
Bio-Reference Laboratories (BRLI)
Share Price: $19
Intrinsic Value: $27
Buy Below: $21
Business description and background: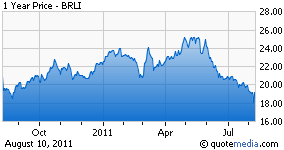 Bio-Reference Laboratories Inc. is the fourth largest full service laboratory in the United States and the largest independent regional laboratory in the Northeastern market, primarily a clinical testing laboratory servicing physician offices with concentrations in the focused markets of esoteric testing, molecular diagnostics, anatomical pathology, women's health and correctional health care. BRLI operates as a national oncology laboratory as GenPath. Better science, superior technology and better service have enabled GenPath to earn a reputation as one of the premier hematopathology laboratories in the country. BRLI's innovative technology platform for sexually transmitted infections has enabled it to expand as a national laboratory in the area of Women's Health. GeneDx, a wholly owned subsidiary, is the BRLI genetics laboratory and is typically recognized as the leading laboratory for testing of rare genetic diseases; GeneDx has now become a technology leader with GenomeDx, based on a CGH array platform and its NextGen sequence offerings that are currently offered in cardiology and will be offered in the future in other disease specific areas.
Thesis
BRLI is one of the few companies in the healthcare sector that has been recording a double digit growth over the last 5 years and expects to continue this over the next five years. Although the slowdown in the employment markets had affected the physician office visits by around 5-10% in 2010, despite that BRLI has managed to grow 26% year on year in 2010. The physician office visits is expected to increase in 2011 that will result in an increasing number of tests per requisition, and an increase in esoteric genomic tests which would be a great propeller of growth going forward. This is witnessed in the recent quarter (Q2'2011) earnings when the percentage of esoteric revenues increased to around 58% from 56% last quarter. The expansion of coverage to an additional 32 million Americans through the health care reform starting in 2014 would form a positive trigger for the growth potential of the company.
During the current quarter, BRLI received a $1.09 million ($0.02 in EPS) from the state of New York as a result of lawsuit brought by thirty five laboratories against the New York state department of health contesting excessive fees charged in relation to laboratory regulation by the state. There is enormous margin expansion possible in the future mainly because BRLI has been investing heavily to expand its business operations to fuel the future growth trajectory of the firm, the company strongly focuses and prioritizes new tests. A major part of their investment in 2010 has been in technical and professional personnel most of whom are MDs or PhDs which continue to have an impact on its margins. The company continues to focus its growth activities on woman-health initiatives as a result of which they had to increase their headcount to around 100 sales reps who work to bring their service to the Ob-Gyn market. With their experience and the strong sales force bandwidth the company is well-positioned to be the one-stop shop for the entire spectrum of pre-natal test offerings.
The fall of 2011 marks another important milestone for BRLI as they work towards launching a new co-branded solid tumor sequencing service with Massachusetts General Hospital (MGH), a Harvard University Teaching hospital. The fully executed agreement will build upon a solid tumor genotyping and pharmacogenomics testing platform that MGH has been offering to its patients for the past few years. This co-branding tumor diagnostic will sequence approximately 100 cancer related genes. Currently, approximately 10 of these genes inform cancer treatment but BRLI as well as MGH strongly believe that many more will be relevant in the future. BRLI will be one of its kinds when it employs next-generation sequencing techniques to screen all 100 genes for a cost that is lesser than screening for even three genes individually. According to management estimates, around 35% of the current cancer patients investigate for three or more markers. For these cases, BRLIs high-volume approach is likely to be more cost effective than the current methods employed. As and when more markers are used in clinical trials and cancer diagnosis and prognosis BRLI's high volume approach is likely to be extremely useful and cost effective. However, the management intends on offering some of its new tests at a moderate pricing to the market that might result in just breaking even or covering the costs but not generating high margins for the company in the short term. The ultimate aim of the management is to spread this test usage and build up a database of broadly profiled tumors that may be used to inform current clinical trials and future treatments. Also, this additional information will steer oncologists from various parts to BRLI for their testing of oncology tests. The brand is further strengthened by the synergies with MGH/Harvard.
The company's revenue growth has been primarily driven by its growth of patients and growth of revenue per patient which is clearly witnessed in its most recent quarter's earnings where there was a 22% growth in patients and 1% growth in revenue per patient. There has been few criticisms surrounding company's growth as being fueled by overutilization of company's sexually transmitted infections (STI) panel. With the STI test comprising no more than 2-3% of company's revenue this issue is rather insignificant. Further, overutilization of high priced STI tests will only lead to greater patients and revenues per patient. BRLI has effectively used this industry leading tests on STI to gain a strong market position in the women's health pap-testing business. One of BRLIs key competitors LabCorp has also recently introduced its own STI panel.
The investment in BRLI comes with few risks inherent in its business. As mostly is the case with laboratories BRLIs revenue recognition involves high degree of management judgment and might have certain volatility associated with it. Although the company has not had any billing or collection problems but this may be an issue. The industry has significant competition from numerous players with ever changing technologies. There may be new proprietary technologies that might completely work towards company's disadvantage and alter its competitive position. BRLIs reimbursement(and therefore revenues) is largely dependent on Medicare fee schedules and small alterations in this could have an impact on company's earnings. During year 2005 CMS announced certain cuts on Medicare reimbursement rates for flow cytometry testing and this impacted company's revenues largely.
Management & Stewardship
Marc D. Gordon ((60)) is the guiding force largely associated with the success of BRLI. He founded the company in December 1981 and has been its Chairman of the Board, CEO and a director since then. He is also the largest shareholder of the company with approximately 10% ownership. Return-on-invested-capital (ROIC), a good sign of a profitable business, has averaged 13% over the past five years, well above their cost of capital.
Valuations
Based on our Discounted Cash Flow (DCF) analysis shares of BRLI are worth $27 and should be purchased below $21. This represents an approximate 45% upside from current levels.
Disclosure: I am long BRLI. This discussion is for informational purposes and should not be taken as a recommendation to purchase any individual securities. Information within this discussion and investment determination of the author may change due to changes in investment strategy when warranted by changing market conditions, or if a security's underlying fundamentals or valuation measures change. There is no guarantee that, should market conditions repeat, this security will perform in the same way in the future. There is no guarantee that the opinions expressed herein will be valid beyond the date of this presentation. There can be no assurance that the author will continue to hold this position in companies described herein, and may change any of his position at any time. We use or best efforts to obtain good data in our models, however it can't be guaranteed that our inputs and data are correct. This is not a recommendation for readers to purchase shares in the above security without consulting your financial professional to discuss your own risk tolerance and objectives.